Yvonne F. 'Vonnie' Staples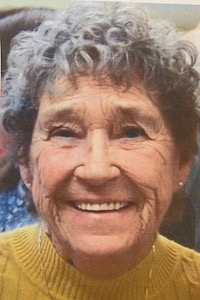 MEDINA/MIDDLEPORT – Yvonne F. "Vonnie" Staples, 85, died March 13, 2021 in Highland Hospital following a short illness. She was born June 10, 1935 in Lockport to Woodrow and Wilhelmina (Sahr) Lucas and was a life-long resident of this area.
Vonnie was a member of the Middleport United Methodist Church, the Hartland Snow Drifters, and the Longbow Archery Club. She enjoyed participating in a Birthday Club group with several of her close friends to celebrate their arrival into this life. Vonnie also enjoyed sunflowers, bowling, canning, cooking, sun-bathing, a good glass of wine and traveling in the motorhome.  However, her greatest joy came from taking care of and nurturing her family.
Mrs. Staples was predeceased by two daughters, Lori Staples and Rebecca Kropf.
She is survived by her husband of 67 years, Robert; children, Woody (Cindy) Staples of Barker, Robert (Jodi) Staples of Elma, and Melissa (David) Kropf of Bergen; sisters, Patricia (Chuck) Thursam of Olcott, and Joanne Braun of Medina; 8 grandchildren, and many great-grandchildren as well as several nieces and nephews.
The family will receive friends at the Bates, Wallace & Heath Funeral Home, 38 State St.-Middleport, on Thursday from 4-7 p.m.  A private service and interment will be held at the convenience of the family. Please note that the funeral home will be operating at 50% capacity and face masks/covering are mandatory and social distancing guidelines will be enforced.
In lieu of flowers memorials may be made to the Middleport United Methodist Church, 9 Park Ave., Middleport, NY, 14105.
To share a special memory of Vonnie, please visit: www.mitchellfamilyfuneralhomes.com.