Viola (Manella) Jozwiak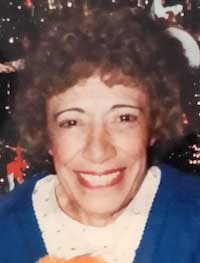 Viola (Manella) "Smith" Jozwiak, 97, of Albion, passed away early Monday morning, May 18, 2020, after a short battle with the COVID-19 virus. Vi was born Nov. 7, 1922 to Gabe and Kate (Licursi) Manella in Albion and lived here all of her life.
Vi was predeceased by her parents; her husband, Art "Smith" Jozwiak; her sister, Mildred (Manella) Hayden; her brother, Leon "Gags" Manella; and her nephew, Michael Manella.
She is survived by her nephews, Richard Hayden of LeRoy, Stephen (Patty) Manella of Westhampton, N.Y., and Gary (Joanie) Manella Wood of Albion; nieces, Kathy Sauer of Tonawanda and Karen Manella of Sarasota, Fla. and Albion; great-nephews, Stephen (Heather) Manella of Albion, Michael (Brittany) Manella of Norman, Okla., Stephen Lee (Brenda) Manella of Mannerville, N.Y., and Jake Manella of Westhampton; great-nieces, Christi (Mason) Waldron of LeRoy, Tracy Larish of Depew, and Leighann Sauer of Buffalo; great-great-nieces and nephews, Danielle, Kayla, Maxx, Roman, Hudson and Phoenix; several cousins, including Peter (Gloria) Monacelli of Rochester; and her much-loved godson, David Snell of Albion.
After graduating from Albion High School, Vi went to work at Walter's Dress Shop in town; and, when the dress shop closed, she went to work at The Corner Pharmacy a few doors down, where she worked for many years until they closed. She was going to retire then, but her friend asked her to come work at her women's clothing shop downtown, The Foxy Lady, where she worked part time for several years.
In retirement, Vi volunteered on the Bereavement Committee at St Joseph's Catholic Church, and  also volunteered as a Friend of The Swan Library. She cherished time with her dear friends, Irene, Roz, Michelle, and many others, having coffee, taking walks, and shopping. Vi could be seen every day walking downtown to the Savings and Loan (she still called it that although the name had changed years ago!) mainly just to visit with Pam and the girls there who were all so wonderful to her; and to Fischer's Newsroom to see Gary and Denise and get her paper – the Courier Express back in the day (her sister's husband was the editor), and then later the Buffalo News. How she loved her paper … and socializing!
Vi married Art "Smith" Jozwiak in 1948, and they shared 61 years of a full and fun life of dancing, golfing, bowling and traveling. They were known in town by many for their dancing. They loved their trips, especially with her sister, Millie, and her family in earlier years; and later to Biloxi, Miss. to see her sister-in-law, Camille, and her niece and nephews. Vi and Art loved going to Biloxi with its nightlife, golfing, the pool, and the beach. Vi loved the Buffalo Bills and, often in earlier years, she would have so much fun attending the games with her beloved sister-in-law, Marion Theodorakos.
Later in life, she was able to take several more trips with her niece, Karen, to Sarasota to visit her sister-in-law, and also a visit back again to Biloxi. Everyone who met her on these trips just fell in love with her.
In 2013, Vi became a resident of The Villages of Orleans, where she lived out the remainder of her life, spreading much joy to the residents and employees alike with her fun and feisty personality.  At 97, she was still walking all around the place and bringing smiles to everyone. A special thank you to the nurses and aides, and all the employees at The Villages who loved her and assisted in her care.
Vi will be greatly missed by special friends and family and all who knew and loved her. Fly high, Aunt Vi. We miss you so much already.
Vi's Mass of Christian Burial will be held at Holy Family Parish – St. Joseph's Church on Sat., Nov. 7 at 10 a.m. Interment will be in St. Joseph's Cemetery.
Memorials be made to PAWS, 3371 Gaines Basin Road, Albion.
Vi's arrangements have been entrusted to Christopher Mitchell Funeral Homes, Inc., 21 West Ave., Albion. To share a special memory of Vi, please visit www.mitchellfamilyfuneralhomes.com.