Tom Jermyn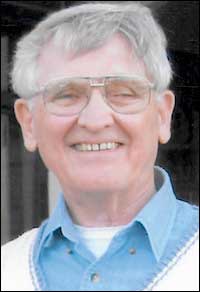 Tom Jermyn, of Rochester and formerly of Holley, passed away on July 3, 2020 after a full 88 years for which Tom frequently expressed gratitude. He was blessed to die peacefully with no prolonged illness or suffering.
Thomas Alfred Jermyn III was born in Rochester on May 13, 1932 to the late Irene (Harris) and Thomas A. Jermyn Jr.
When he was seven, the family moved to Orleans County. Tom attended school at the historic Clarendon stone schoolhouse, and later in Holley through eighth grade. He graduated from Rochester's John Marshall High School in 1950.
Tom's aptitude and interest in science and math motivated him to join the Air Force to enable a college education on the GI Bill. Tom served in the Air Force for four years. During this time, he married Maggie Gerling of Rochester, and they began their family. He always remained grateful to his in-laws (the late Jake and Margaret Gerling) for help with his young family while he was stationed overseas, and after his discharge while he pursued his college education.
Tom received his BS in electronic engineering in 1960 from Rochester Institute of Technology. Tom's 28 years of employment at Lockheed Missiles and Space continued his support of the U.S. defense efforts. Tom's first 15 years with Lockheed were at Vandenberg AFB in California, and the last 13 supported DOD efforts at a U.S. NATO base in Bad Aibling, Germany.
In 1990, he accelerated his retirement to be near his terminally ill and dearly beloved mother in New York. While in Rochester, he reconnected with his Holley junior high sweetheart, Betty (Murphy) Rocco. Tom considered the happy years that followed with Betty the most joyful of his life.
Tom and Betty spent winters in Englewood, Fla., and their summers and Christmases in Holley. Tom was surrounded by Betty's warm and loving family, with her siblings, who Tom knew as a boy, as well as her children and grandchildren. They enjoyed road trips throughout the country, driving to and from Florida and twice making the trek to California to visit Tom's family, with many visits with family and friends while on the road. They also joined their siblings on cruise adventures to the Orient, Alaska and Hawaii.
Tom was skilled at working with his hands and mechanically inclined. As a young man, Tom remodeled homes, rebuilt cars and motorcycles, and began his passion for woodworking. In retirement, Tom built a woodshop, in which he handcrafted beautiful period furniture reproductions.
Life changed for Tom and Betty in 2011 when his eyesight began to fail and Betty's Alzheimer's care needs increased. They managed these difficulties with the help of Steve and Bambai Rocco, whose assistance Tom greatly appreciated. Despite the difficulties, Tom rarely complained. Instead he took comfort in reflecting on his good life, appreciating the people still in his life and the care provided at Crimson Ridge the last four years.
Tom is survived by his daughter, Amy, and her husband, Lou Lippincott of California, who will miss their meaningful phone calls and cherished visits. He also leaves behind three grandchildren and three great-grandchildren. Additionally, he leaves behind many members of Betty Murphy-Rocco's family, whose love and kindness he treasured.
He was preceded in death by Betty, the love of his life; his son, Thomas A. Jermyn IV; his daughter, Lois Jermyn; the mother of his children, Maggie; and his sisters, Beverly Ferris and Doris Maisel.
Services and interment will be private.
Tom's arrangements have been entrusted to Christopher Mitchell Funeral Homes, Inc. in Holley. To share a special memory of Tom, please visit www.mitchellfamilyfuneralhomes.com.