Timothy E. Drake, Jr.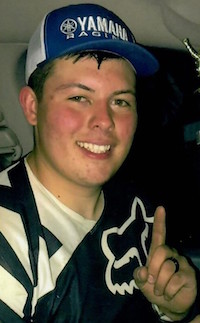 ALBION – Timothy E. Drake, Jr., age 22, died January 2, 2021 at his home following a courageous battle with cancer. He was surrounded by his family. He was born August 28, 1998 in Brockport, a son of Timothy and Kathy Drake, Sr. and had lived in this area all of his life.
Tim graduated from Albion High School in 2016 where he wrestled and played football. He was an avid motocross racer, winning numerous trophies. Tim raced in many different states but his favorite track was Area 51 in Batavia. He loved to go hunting and was a member of the NYS Hunting Club. Tim worked as a mechanic at Bidleman Car Dealership in Albion.
In addition to his parents, Tim and Kathy, he is survived by his siblings, Joshua Savage, Kristie Savage, Brook Drake, Peyton Drake, Hunter Drake; his fiancé Cameo Haskins; paternal grandparents Ralph (Martha) Drake, Evelyn (Paul) Reichhart; maternal grandparents Roy and Karen Forsythe; his "brother" Cortlin Artis as well as many aunts, uncles, nieces and friends.
The family will receive friends at the Christopher Mitchell Funeral Homes, Inc. 21 W. Ave., Albion on Thursday, January 7th, from 4 to 7 p.m. Burial will be in Mt. Albion Cemetery on Friday at 10 a.m.
Please note the Funeral Home and will be operating at 33% capacity per state guidelines. New York State requires those in attendance to adhere to the social distancing guidelines and face coverings are mandatory.
To share a special memory of Tim, please visit www.mitchellfamilyfuneralhomes.com.