Theresa E. Bibby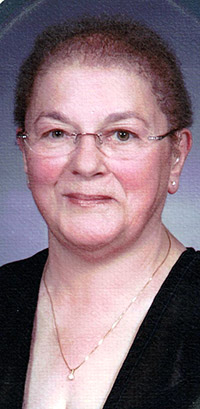 Theresa E. Bibby, 83, of Brockport passed away Feb. 8, 2022. She was born March 6, 1938 in Brockville to the late Peter and Helen Monacelli.
Theresa was a member of the Church of Nativity of BVM in Brockport. She enjoyed cooking and was the former Food Service Manager at Lakeside Memorial Hospital. Theresa's greatest love was spending time with her family and friends.
In addition to her parents, she was predeceased by her husband, Milford; son, Kenneth Bibby; son-in-law, Len Rettig; brothers: Peter, Robert and Nicholas Monacelli.
Theresa is survived by her daughter, Luanne Rettig; daughter-in-law, Teri Bibby; grandchildren: Jacqueline, Shawn (Rachel), Kory (Frances), Elenna, Emily, Ethan (Katie) Elijah; great-grandchildren: Jocelyn, Elizabeth, Mason, and Liam as well as several nieces, nephews and cousins.
The family will receive friends at the Christopher Mitchell Funeral Home, 16650 State Route 31, Holley, NY 14470 on Sun., Feb. 13 from 1-4 p.m. Her Mass of Christian Burial will be held at Church of Nativity of BVM, 152 Main St., Brockport, NY 14420 on Mon., Feb. 14 at 10 a.m. Interment will be held in the spring at Garland Cemetery.
In lieu of flowers, memorial contributions may be made to: C.U.R.E. Childhood Cancer Association 200 Westfall Rd., Rochester, NY 14620; or Alzheimer's Association, 435 E. Henrietta Rd., Rochester, NY 14620.
To share a special memory of Theresa, please visit www.mitchellfamilyfuneralhomes.com