Terri A. Haskins,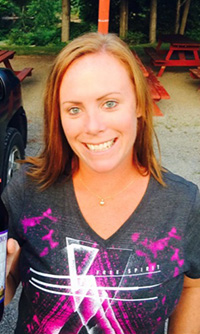 Terri A. Haskins, 44, of Kendall, passed away Wed., March 17, 2021. Born on Aug. 28, 1976, in Cuba, she was a daughter of Melvin N. and Donna L. Duvall Smith, Jr.
Terri was a graduate of Cuba Central School Class of 1994.  She had worked for Clover Hill Nursing Home as a head cook for several years, but was currently employed by SUNY Brockport.
She loved her daughters and thought the world of them. She enjoyed camping, kayaking, cooking, softball, being outdoors, and was a fun-loving Aunt to all of her nieces and nephews. She loved quiet evenings with friends and always had a glass of wine in hand. She had an uncanny ability to find happiness in her daily activities and her personality was contagious to whomever she met. To sum her up in words she was tenacious, tough, persistent, independent, stubborn, outgoing, and full of laughter.
Terri is survived by her daughters: Kali (Preston) Muth serving in the U.S. Air Force, Alexis Haskins, and Aubreye Haskins; her parents Melvin N. (Donna L.) Smith, Jr. of Cuba; her siblings: Trisha (Colby) Johnson of Bolivar, Tanya (Nick) Alcocer of Lee, NH,  Tiffany (Ben) Larabee and Andrew (Stephanie) Smith all of Cuba; numerous nieces, nephews, and cousins; and her former husband, Todd Haskins of Kendall.
She will be reunited with her loving niece Trinity who also left us too soon.
Friends are invited to a Celebration of Life on Sat., March 27, 2021 at the Cuba VFW Post 2721, 5425 Rte. 305 North, Cuba, NY from 2-5 p.m. Arrangements are under direction of the Mark F. Rinker Funeral Home & Memorial Service, Inc., Cuba.
A second Celebration of Life will be in Orleans County from 2 to 5 p.m. Saturday, April 3, at Albion Sportsmen's Association, 3544 Keitel Rd., Albion NY.
A Trust is being setup for her children at Five Star Bank, 27 Water St., Cuba, NY 14727.