Tabatha L. Miller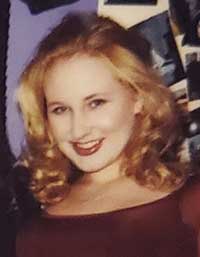 Tabatha L. Miller, 40, of Newfane, died Sept. 1, 2020 in Niagara Hospice, following a two-year battle with non-Hodgkins lymphoma.
Tabatha attended NCCC and then graduated with her LPN license from BOCES in 2002. She enjoyed spending time in Virginia and she loved horses, but her happiest times were when she was spending time with her family and friends.
Ms. Miller was predeceased by her parents, Fred and Bonnie Page.
She is survived by her children, Kenneth Allore Jr., Arianna Allore and Madison Miller; her brothers, Scott (Paul) Page and Jamie Page; sisters, Lisa (David) Rupple and Charity Nixon; sisters-in-law, Laura Waterbury, Emily Belfield and Yvonne Briggs; brothers-in-law, Jordan Miller and Stephen Allore; nieces, Rebecca Tippett, Paige Dutcher, Marisa Stanley and Kristen Page; nephew, Scott Page; special aunts, Judy Williams and Dawn Phillips; her best friend of 31 years, Kelli Harding; as well as her mother-in-law and father-in-law, Leann (Phil) Belfield and Brian (Sigrun) Miller.
The family will receive friends on Sat., Sept. 12 from 2 to 5 p.m. at 8426 Rochester Road, Gasport, where her Celebration of Life will take place at 5 p.m.
In lieu of flowers, memorials may be made to the family for the benefit of her children's education fund.
Tabatha's arrangements have been entrusted to Sherrie Bream Funeral Home of Gasport. To share a special memory of Tabatha, please visit www.mitchellfamilyfuneralhomes.com.