Susan C. Eddy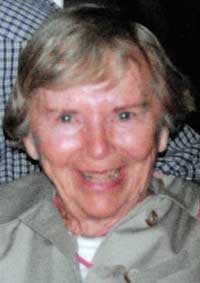 Susan Cooper Eddy passed away peacefully at her home in Albion on April 27, 2020. She was born on Aug. 5, 1922 to Samuel A. and Dorothy H. (Shisler) Cooper. She was raised in Brighton, N.Y.
Sue married Arthur B. "Dick" Eddy on Nov. 16, 1946. They were married for 64 years until Dick's passing in 2011. Upon marrying Dick, Sue moved to Albion and quickly immersed herself in the community. Sue served the American Red Cross for many years through its Service to Military Families and Water Safety programs. She was a 71-year member of First Presbyterian Church of Albion and served the church in many ways over the years. Additionally, Sue volunteered at the former Arnold Gregory Memorial Hospital.
Sue and her husband loved to travel. They traveled throughout the U.S. and internationally. Sue was an avid card player who enjoyed summers at the family cottage at Oak Orchard On The Lake in Carlton.
In addition to her parents and husband, Sue was predeceased by her sister, Mary C. Wagner; and her twin brother, Samuel A. Cooper Jr.
She is survived by her daughters, Cristen C. (Maurice) Haltom of Ithaca, N.Y., Susan K. "Kim" (Richard) Remley of Albion, and Anne B. (Bruce) Beaty of Greenwich, Conn.; seven grandchildren, Jhakeem (Christina) Haltom, Ajemo (Javail) Haltom, Rebecca (James) Furman, Andrew (Gretchen Kreutz) Remley, Samuel Remley, Susan (Emmett) Fitzgerald, and Sidney (Andrew Lowe) Beaty; six great-grandchildren, Orion, Luma, Amina, Benjamin, Grace and Amos Haltom; two sisters-in-law, Catherine Schwyn and Joan Brennan; as well as several nieces and nephews.
Due to current public health concerns, a memorial service in celebration of Sue's life will be held at First Presbyterian Church of Albion on a later date to be announced. Internment will be private at Mt. Albion Cemetery.
Donations in memory of Sue may be made to First Presbyterian Church of Albion, 29 E. State St., Albion NY 14411.
Arrangements for Sue have been entrusted to Christopher Mitchell Funeral Homes, Inc. To share a memory of Sue, please visit www.mitchellfamilyfuneralhomes.com.