Stephen V. Recco, Jr.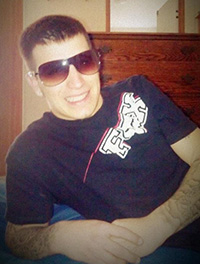 Stephen V. Recco, Jr., 29, of Medina died on Sun., Oct. 4, 2020. Born Nov. 8, 1990 in Medina, Stephen was the son of Frances "Chicky" (Ward) Moore and Steve V. Recco.
He attended Medina High School. He worked varies jobs. Stephen was very mechanically inclined. He was known for his contagious smile and big heart and was always willing to help others. Stephen enjoyed riding dirt bikes, four-wheeling, listening to music, loved going to the drag races and spending time with family and friends.
Predeceased by infant daughter, Stevie Recco; maternal grandparents, Sidney and Mildred Ward; paternal grandparents, Salvatore "Sam" and Claire Recco; and his beloved dog, Maggie.
Survivors include his mother, Chicky Moore; father, Steve Recco; sisters: Michelle Stupnick, Lisa (Dave) Wienke, Annie Recco, Jennifer Belcher and Tricia (Kevin )Belcher; brother, James Recco; several aunts, uncles, nieces and nephews.
Stephen was a loving son, brother, uncle and friend and will be dearly missed. He was truly loved by everyone who met him.
Calling hours will be held on Sat., Oct. 10 from 10 a.m.-12 p.m. at the Oak Orchard Assembly of God Church, 11122 Ridge Rd., Medina, where his funeral service will immediately follow at 12 p.m. Burial will be in West Ridgeway Cemetery at the families discretion. Arrangements are in the care of Cooper Funeral Home, 215 W. Center St., Medina. Share condolences at: www.cooperfuneralhome.com