Shirley M. Baun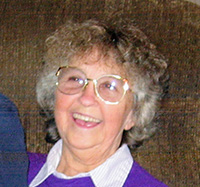 Shirley M. Baun, 83, of Lyndonville, NY, passed away on Fri., March 12, 2021 at the Orchard Manor Nursing Home, Medina, NY.
Born on May 2, 1937 in Lyndonville, NY, she was the daughter of the late Fredrick and Rena (Martin) Goetze.
In Sept. of 1958, she married the late Larry Baun and together they made their home in Lyndonville raising three children. She worked various jobs, including at the Lyndonville Canning Factory. Shirley enjoyed the outdoors and nature. She especially enjoyed watching the hummingbirds and other birds at her many feeders. She also enjoyed going out to eat at The Hojack Shack in Lyndonville.
Shirley is survived by her children: Eric Baun of Lyndonville, Randy (Kathy) Baun of Lyndonville, Darren (Heather) Baun of Rochester; two grandsons: John and Robert Baun. Also surviving is a brother, Charles Goetze of Lyndonville and many nieces and nephews. Besides her parents and husband, Shirley is predeceased by five siblings.
Memorials may be made in Shirley's name to a charity of one's choice.
There are no calling hours. A private service will be held at the convenience of the family. Arrangements were entrusted to the Bogan & Tuttle Funeral Home, 112 N. Main St. Lyndonville, NY 14098.
Please light a candle or share a memory of Shirley at: www.bogantuttlefunerals.com