Sharon E. McAvoy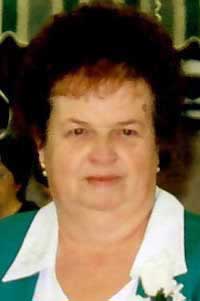 Sharon E. McAvoy, 80, of Gasport, passed away at Buffalo General Hospital on May 6, 2020.  She was born Feb. 10, 1940 in Lockport, a daughter of the late James and Jennie (Moreland) Barnard.
Sharon was a past president of the Hartland Volunteer Fire Company Ladies Auxiliary and a charter member of the Hartland Volunteer Fire Company. She loved playing bingo and was a former member of the Hartland Drift Dodgers. Mrs. McAvoy retired from Harrison Radiator.
She was predeceased by her husband, Alfred McAvoy; son, Ronald Granzow; brothers, William and David Barnard; and sisters, Jeanette Fletcher and Judy Barnard.
Sharon is survived by her children, Russell (Marybeth) Granzow, Jacqueline Granzow, Harry (Margie) Granzow and John (Tammy) McAvoy; nine grandchildren; eight great-grandchildren; several nieces, nephews and cousins.
A private funeral service will take place, with burial at Hartland Central Cemetery.
In lieu of flowers, memorials may be made to Hartland Volunteer Fire Company, 8945 Ridge Road, Gasport NY 14067.
Sharon's arrangements have been entrusted to Sherrie-Bream Funeral Home, 4521 Main St., Gasport NY 14067. To share a special memory of Sharon, please visit www.mitchellfamilyfuneralhomes.com.