Sally Harrison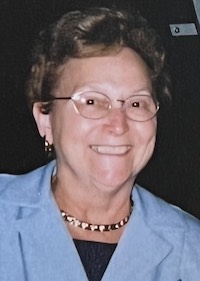 LYNDONVILLE – Sally Harrison of Lyndonville, NY, wife of the late Roger P. Harrison entered into rest on Sunday, Oct. 16, 2022, at home. She was born in Somerset, NY, on Dec. 25, 1933, daughter of the late Alfred Higgs and Anna Pitcher Higgs.
Sally retired from Barker Central School as a secretary. She loved her family and enjoyed reading, playing cards, going to the casino, traveling, crocheting, puzzles and watching the Buffalo Bills. She was a member of Johnson Creek, Barker Seniors and County Line Country Church.
She was the mother of Bev Seib, Sue (Doug) Capell, Kathy (Mark) Singer, Peggy Heiligenthaler (the late Scott Heiligenthaler), David Harrison, Daniel Harrison and the late Rick Harrison.
She was the grandmother of Dan (Kari) Heidemann, Lisa (Chris) Striemer, Gina (Sean) Moore, Matthew (Julianna Kiley) Capell, Maggie Capell, Kasie (Alex Mulroy) Entz, Nicole Entz, Brad (Logan) McMurray, Drew (Jenna) McMurray and Emma Rose.
She was the sister of Joyce Robinson, Donna Barber and Jane Girard, the late Caryl Poyfair, Alfred Higgs, Harold Higgs, Alice Hoste and Earl Higgs.
She also is survived by special friends, Bill and Rosie Brown, and many nieces, nephews and cousins.
A celebration of life will be held on Friday, Oct. 21, with a service at 3 p.m. followed by an informal gathering and sharing until 5 p.m. at the Spruce & Sparrow Event Center, 2437 Johnson Creek Road, Middleport, NY 14105.
Burial will be in Somerset Cemetery alongside Roger. In lieu of flowers, donations are greatly appreciated to the BCS Alumni Scholarship Fund, PO Box 266, Barker, NY. 14012, Barker Public Library, PO Box 261, Barker, NY  14012, or County Line Country Church, PO Box 202, Barker, NY 14012.