Rose Burgio Cardone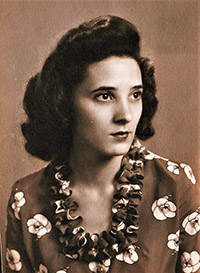 Rose Burgio Cardone, "canonized" St. Rose of Ridgeway by a law partner of her late beloved husband, Vincent, passed away peacefully at the home of her devoted daughter Renee and son-in-law Terry on Sept. 28, 2021 at age 97.
She was born in Albion, NY on April 2, 1924, the youngest of three children of Joseph and Antonina Sala Burgio, who had emigrated from Italy.  After graduating from high school in Albion, Rose attended Highland Hospital School of Nursing.  She was a practicing RN for a short time before marrying and starting her family.  She participated faithfully in the national Nurses' Health Study from its inception until her death.
Rose was a warm, loving and attentive wife and mother to six children.  Family and friends were always welcome at the raucous home on Telegraph Road where she and Vincent raised their family.
When the nest was empty, Rose helped supervise the clubhouse at Harbour Pointe Golf Course, the family business.  She wintered in Florida, where she also held open house for family and friends, for almost 40 years.
Gardening, Scrabble, and tuning in to Wheel of Fortune, where she loved to see Vanna White's wardrobe, were pastimes when Rose could find a few minutes to herself.
Rose was predeceased by her parents, her siblings Samuel and Frances, and her husband of over 60 years.  She is survived by six children: Rosalind Lind (Charles), Renee (Terry Winegar), Dominic, Kathleen (Bruce Neugebauer), Joseph (Jenifer) and Michael (Kathleen); 11 grandchildren and 11 great-grandchildren; her sister-in-law, Jean Cardone; and many nieces and nephews.
The family will hold a private memorial service.
Relatives and friends are invited to share stories of how Rose touched their lives at a reception starting at 12 p.m. on Sat., Oct. 16 at the Medina Theatre, 603 Main St., Medina.
In lieu of flowers, memorials for Rose may be made to the Medina Scholarship Fund, PO Box 185, Medina, NY 14103, where a nursing scholarship will be established in her name.
Local arrangements were entrusted to the Bogan & Tuttle Funeral Home, 226 Pearl St., Medina, NY 14103.
Please light a candle or share a memory of Rose at: www.bogantuttlefunerals.com