Ronda J. Colella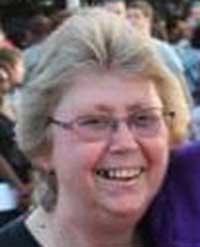 Ronda J. (Kingdollar) Colella, 65, of Batavia, fearlessly went to be with her Lord and Savior Feb. 25, 2019.
Ronda was born Feb. 27, 1953 in Albion, a daughter of the late Robert P. and Irene J. (Ruhlman) Kingdollar. She loved to go to the casino, and she enjoyed listening to Alison Krauss and bluegrass music. She also loved to watch and listen to Charles Stanley and to play bingo. Ronda loved her dogs, Scrapper, Selah and Jade. She will be remembered for her love of life, her sense of humor, and her infectious laugh.
She is survived by her best friend and eternal sister, Deb Maniace; children, Wendy Neilans Kiedrowski, Dan (Heather) Colella and Joseph (Melissa) Marcella; grandchildren, Tyler, Zach and Nick Neilans, Brennan Colella, Robert Reome, Brandon Reome and Bradley Reome; siblings, Maurine (late Ricky) Heideman, Roxanne (Russell) Heideman, Ronald Kingdollar, John (Laura) Kingdollar, Gail (Chuck) Cox, Randy Kingdollar and Jamie (Jamie Lea Johnson) Kingdollar; several aunts, uncles, nieces, nephews and cousins.
The family will receive friends Fri., March 1 from 10 a.m. to 12 p.m. at Christopher Mitchell Funeral Homes, Inc., 21 West Ave., Albion, where Ronda's funeral service will follow calling hours at 12 p.m. Interment will be in St. Joseph's Cemetery.
In lieu of flowers, memorials may be made to Palliative Care Program – Office of Advancement, P.O. Box 278996, 300 E. River Road, Rochester NY 14627.
To share a special memory of Ronda, please visit www.christophermitchell.com.