Ronald E. Petrie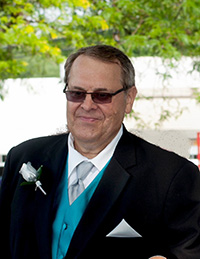 Ronald E. Petrie, 67, of Medina entered into rest unexpectedly at his home on Mon., Jan. 18, 2021.
Born Nov. 13, 1953 in Medina, Ron was a son of the late G. Irving and Geraldine (Harris) Petrie. He was a graduate of Lyndonville High School, class of 1972. He was employed at Delphi-Harrison Radiator Div. of GMC in Lockport for over 30 years. He then worked for Baxter Healthcare in Medina for several years, retiring in 2019. Ron was a lifelong active member of the Lyndonville Presbyterian Church where he served as elder, deacon and trustee. He was an avid hunter, enjoyed riding motorcycle, kayaking and also enjoyed concerts and live music.
Left to cherish his memory are his children: Gregory (James) Petrie; Adam (Amanda) Petrie, Shannon (Carly) Petrie and Crystal (Darryl) Alexander; grandchildren: Briana and Aiden Petrie, Colby, Landen and Logan Petrie and Preston and Carley Alexander; sister, Jeanette (late Gary) Lindke; sister-in-law, Harriet Petrie; also several nieces, nephews and cousins. Beside his parents he was predeceased by his brother, Lawrence Petrie.
Calling hours will be held on Sat., Jan. 23 from 11 a.m – 1 p.m. at the Lyndonville Presbyterian Church, 107 N. Main St., Lyndonville, where his funeral service will immediately follow at 1 p.m. Interment will be in Lynhaven Cemetery. In lieu of flowers, memorials may be made to the Lyndonville Presbyterian Church. Arrangements are in the care of Cooper Funeral Home, 215 W. Center St., Medina. Share condolences at www.cooperfuneralhome.com