Roger L. Vanderwalker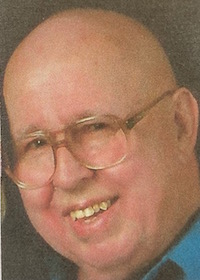 GASPORT – Roger L. Vanderwalker, 82, of Gasport entered into eternal rest on Thursday, February 25, 2021, in Orchard Rehab and Nursing Facility. He was born May 17, 1938 to the late Gurney and Lula (Blacklock) Vanderwalker and was a lifetime resident of the Gasport/Johnson Creek area.
Roger graduated from Royalton Hartland Central School in 1955 and on June 29, 1957 he married his high school sweetheart, Beverly Walker. They were married for 57 years until her death in May 2015.
After graduating from school he helped his dad do carpentry work. Roger and his brother, Bob, were owners of Vanderwalker Brothers, a hardware store in Middleport from 1961-2001 and together, the two brothers enjoyed going to the Adirondack Mountains in the Fall for deer hunting. Roger was involved with the Gasport Lions Club, Lockport Amateur Radio Association, Boy Scout Troop #104 and the John Birch Society. He was also a councilman on the Hartland Town Board in the 1980s. He was a charter member of the Community Fellowship Church in Johnson Creek where he was very active and loved serving the Lord. Over the past two years he was involved with Christian Leaders Institute where he studied the Word of God and mentored others in their Christian walk.
Mr. Vanderwalker was predeceased by his wife, Beverly; brother, Robert; and sisters-in-law, Lois Vanderwalker and Betty Walker.
He is survived by his children, Cathy Vanderwalker of Gasport, and Kenneth (Kathy) Vanderwalker of Barker; grandchildren, Brittany Tatu, Darrick (Angela) Vanderwalker, Elliott Vanderwalker, Amy Delamarter and Marc (Amery) Delamarter; great-grandchildren, Thomas Tatu, Stephanie Tatu, Sophia Tatu and Brooklyn Tatu; brother-in-law, Roger Walker as well as several nieces, nephews and cousins.
The family will receive friends on Thursday, March 4th, from 10 a.m. to noon at the Community Fellowship Church, 3146 Johnson Creek Rd., Middleport, where his funeral service will follow at noon with Pastor Joseph A. Szalay III officiating.
Interment will be in Hartland Cemetery. In lieu of flowers, memorials may be made to the church. Please note, the church will be operating at 50% capacity and masks/face coverings as well as NYS social distancing guidelines that are mandatory and will be enforced.
Roger's arrangements have been entrusted to the Bates, Wallace & Heath Funeral Home of Middleport. To share a special memory of Roger, please visit www.mitchellfamilyfuneralhomes.com.