Robert H. Holtz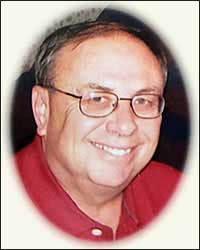 Robert H. Holtz, of Medina, passed away on Tue., April 7, 2020 at The Unity Hospital of Rochester. He was born in Medina on July 10, 1941, the son of the late Germain A. and Henrietta (McElwee) Holtz.
Bob graduated from Medina High School and Bryant & Stratton College. He served with the U.S. Air Force in Olathe, Kan., where he was a material control specialist. Bob was a production supervisor with Abex. After the plant closed, he became a sales representative with Cook Wholesale, and later with Jacob Kerns & Sons for several years before retiring. He was a member of the Knights of Columbus, the Medina Lions Club, and Holy Trinity RC Church, where he served as an usher and collected for Catholic Charities.
Bob was always active playing tennis, golfing, or playing hockey at Butts Park in the winter, where he held the top scoring title for countless years. He also had two holes-in-one. He loved spending time with his family and friends and was an avid Bills and Sabres fan. Bob never met a stranger – he was kind, caring, and always there to lend a hand.
Bob was the husband of the late Karen E. (Keep) Holtz, who passed away in February 2007.
He is survived by his children, Katherine (Donald) Mills and David R. Holtz; and two grandchildren, Carrie and Henry Mills. He was the brother of Mary Elizabeth "Betsy" (Richard) Barnard, Thomas A. (Colleen) Holtz, and Margaret M. "Peg" (Michael) Cushman; the proud uncle of James (Maria) Barnard, John Barnard, Julie (Nathan) Green, Matthew Holtz, Robert (Marie) and William (Melissa) Cushman; the great-uncle of Megan, Jessica, Benjamin, Abigail and Leah; and a special friend to Evie Callard.
Bob's family will be present for visitation on Fri., July 24 from 3 to 7 p.m. at Cooper Funeral Home, 215 W. Center St., Medina. Due to current regulations, social distancing and facial coverings are required. A Mass of Christian Burial will be celebrated on Sat., July 25 at 11 a.m. at Holy Trinity RC Church, 211 Eagle St., Medina, followed by military honors.
Memorials in Bob's name may be made to PAWS Animal Shelter, 3371 Gaines Basin Road, Albion NY 14411; or to Holy Trinity Church, 211 Eagle St., Medina NY 14103.
Visit www.rhoneyfuneralhome.com to sign the guest register.