Robert F. Kurdziel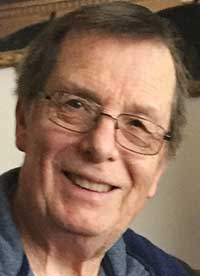 Robert F. Kurdziel, 69, of Medina, died suddenly in his home on Sat., Jan. 5, 2019.
Born May 17, 1949 in Medina, Bob was the only child of the late Edmund J. and Helen M. (Biernacki) Kurdziel. He was a 1967 graduate of Medina High School. After high school, he married the love of his life, Nancy L. Marek, in 1970. He worked for Abex Corporation until 1985, before leaving to start his business as the owner/operator of Bob's Collision. Bob loved doing auto body work and using his skills to serve the community. Upon closing his shop, he went on to work grounds and maintenance at Medina Central School District, where he drew much enjoyment from the company of his colleagues and the school staff before retiring. He was an avid gardener who loved outdoor work, and he ran Kurdziel Landscaping as a side job. He was a proud supporter of the Buffalo Bills, and he also enjoyed watching NASCAR. He very much enjoyed spending time with his grandchildren and cherished the companionship of his neighbors and friends, especially Ray Parker, Luanne Howe and Don (Nancy) Wasnock. He will be missed by all who knew and loved him.
He is survived by his beloved wife of 49 years, Nancy L. Kurdziel; three daughters, Laurie Kurdziel-Tai (Dana Bentley), Jill (Robert) Kurdziel Tillett, and Susan Todd; six grandsons, Justin and Aaron Kurdziel-Tai, Billy and Oliver Tillett, and Devin and Ethan Galbreath; brothers- and sisters-in-law, Frank (the late Beverly) Sargent, Larry (Norva) Marek, Sandra (Glenn) Marek, Gary Marek, Scott (Tanya) Marek, Greg (Renee) Marek, and Brian (Tonna) Marek; and several nieces, nephews, cousins and friends.
Calling hours will be held on Thu., Jan. 10 from 4 to 7 p.m. at Cooper Funeral Home, 215 W. Center St., Medina. His Mass of Christian Burial will be celebrated by the Rev. Daniel Fawls on Fri., Jan. 11 at 11 a.m. at Holy Trinity Parish, St. Mary's Church, Medina. Burial will be in Sacred Heart Cemetery.
In lieu of flowers, memorial donations may be made to Meals on Wheels of Orleans County – Arc of Genesee Orleans. Please feel free to share condolences or stories at www.cooperfuneralhome.com.