Robert E. and Gail A. Kester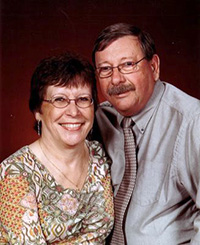 Robert E. and Gail A. Kester of Middleport were reunited on their 44th anniversary on Sept. 5, 2020.
Robert E. Kester was the son of the late Robert and Loretta Kester.  Gail A. Kester was the daughter of the late George and Ruth Vandenberghe.  Robert graduated in 1961 from West Seneca High School and Gail graduated in 1966 from Fairport High School.
They leave behind their five children: Jennifer (Mike) Braun, R. Sean (Paula) Kester, Charlene (Kenny) Heschke, Yvonne (Christopher) Lane, and Robin (Tom) Greg; grandchildren: Jacqueline Braun, Corey (Alicia) Martin, Adam Braun, Andrea (Tina) Braun, Julia Braun, Olivia Kester, Solenne Greg, Seth Lane and Roman Greg; brother, Paul (Lori) Kester; sisters: Suzanne Kester, Jean Vandenberghe (Barbara Branski); niece, Kaitlyn (Vince) Cherry; nephew, Jeffrey (Kristina) Kester; several cousins and many friends in the Middleport Community, their Middleport Methodist Church family, and at the Middleport Fire Department.  They have resided in Middleport since 1977 where they raised their family.
We will be celebrating Bob and Gail together.  There will be calling hours on Fri., May 21, 2021 from 4-7 p.m. at Bates, Wallace and Heath Funeral Home, 38 State St., Middleport NY.  A Celebration of Life on Sat., May 22, 2021 at 11 a.m. at the Middleport United Methodist Church, 9 Park Ave., Middleport NY 14105.  We will be following all COVID guidelines.
Donations in their memories can be made to the Middleport Methodist Church and the Middleport Fire Department.
To share a special memory of Bob or Gail, please visit www.mitchellfamilyfuneralhomes.com