Reah M. Johnson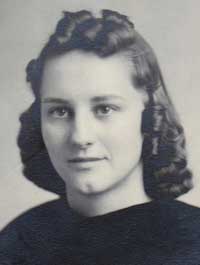 Reah M. Johnson, 99, of Medina, passed away at her home on Thu., Aug. 6, 2020. She was born June 30, 1921 in the Town of Ridgeway, a daughter of William A. and Clara M. (Betts) Todkill.
She was a graduate of Barker High School, class of 1939, and the Millard Fillmore Hospital School of Nursing, graduating in 1944 as a Registered Nurse. Reah married G. Ross Johnson on July 12, 1944 in Somerset. She lived on their farm in the Town of Hartland for 67 years. Reah was a corrections officer at Albion Correctional Facility for many years. She was a member of County Line United Methodist Church, Jeddo Chapel, and the Hartland Historical Society. Reah was proud to be able to attend her 80th high school reunion at the Barker Alumni Banquet in 2019.
She is survived by her children, Rebecca A. Ott, Truman W. (Marie) Johnson and Robert W. Johnson; nephew, Tod (Marion) Theros; and niece, Stephanie (Rick) Reid.
Besides her parents, she was predeceased by her husband in 1980; sister, Ruth M. Theros, in 2014; and nephew, George A. Theros, in 2020.
Calling hours will be held on Tue., Aug. 18 from 5 to 7 p.m. at Cooper Funeral Home, 215 W. Center St., Medina. Masks and social distancing will be mandatory.
In lieu of flowers, donations to honor Reah's memory may be made to Jeddo Chapel, 601 Park Ave., Medina NY 14103; or to County Line Country Church, PO Box 202, Barker NY 14012.
Share condolences at www.cooperfuneralhome.com.