Raymond E. Callard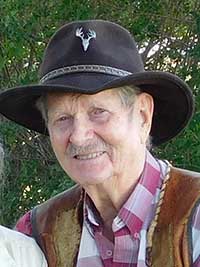 Raymond E. Callard, 93, of Medina, entered into rest peacefully on Sat., Sept. 7, 2019.
Born Aug. 29, 1926 in Waterport, Ray was a son of the late Earl and Lillian (Warn) Callard. He graduated from Albion High School, class of 1944. A World War II veteran, Ray served in the U.S. Army in the European Theatre from 1944 to 1946. Soon after being discharged, he met the love of his life, Geraldine "Gerry" Stehler, and they were married April 5, 1947. While raising his family, he served as Scoutmaster for Boy Scout Troop #34. During his lifetime, he was employed in many places in the area, including Iroquois Job Corps, where he was in charge of the sign shop, and Albion Correctional Facility, teaching carpentry and sign making. He also owned and operated his own business, The Rustic Sign. Ray had many hobbies, including hunting, fishing, wood carving, making turkey calls, photography, fur tanning and hat making (raccoon, opossum and skunk). He also enjoyed making homemade wine and operating his backhoe and triple-nickel bulldozer. In his downtime, he liked listening to classical music. One of Ray's favorite places to go with his family was his cabin and property in Canisteo, where they enjoyed many great times. One of his earned nicknames was "the skunk-whisperer," for his ability to calm live skunks and handle them safely. Ray had a positive attitude and was a positive influence on many who came to know him. He will be missed by all who knew and loved him.
Ray is survived by his wife of 72 years, Gerry Callard; son, Gary (DeeDee) Callard; daughters, Peggy (John) Foss and Lori (Ronald) Ettinger; 10 grandchildren; 25 great-grandchildren; 3 great-great grandchildren; also several nieces and nephews.
Besides his parents, he was predeceased by his son, Richard Callard; granddaughter, Sarah Callard; brother, Chesbro Callard; and two sisters, Madelyn Roberts and Virginia West.
Calling hours will be held on Sat., Sept. 14 from 11 a.m. to 2 p.m. at Cooper Funeral Home, 215 W. Center St., Medina, with a service and military honors immediately following at 2 p.m. Burial will be in Bates Road Cemetery.
In lieu of flowers, memorial donations in Ray's name may be made to Hospice of Orleans, P.O. Box 489, Albion NY 14411; or to a charity of one's choice.
Please share condolences and memories at www.cooperfuneralhome.com.