Ray D. Neff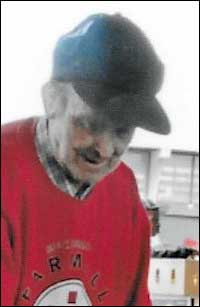 Ray Dewey Neff, of Clarendon, who was born April 30, 1933 in Clay County, W. Va., was surrounded by love as he was called home by the Lord on July 7, 2020 at 6 p.m. at Unity Hospital. His passing came after a more than 30-year battle with COPD and a 20-year battle with cancer.
Ray was predeceased by his father, Joe Liberty Neff; mother, Sarah Julemmy (Bragg) Neff; and Aunt Lillian Neff of Albion; as well as brothers, Buddy Neff, Roy Neff, Woodie Neff and Troy Neff; and sisters, Blanche McCune and Fonda Lee Nichols.
Ray is survived by his son, Christopher Mark Neff; daughter-in-law, Sarah (Cannioto) Neff; granddaughters, Lillian Neff and Annabelle Neff; as well as a brother, Orgle Neff of Arcata, Texas; and sisters, Shirly Davis and Wanda Taylor of West Virginia.
He was born during the Depression, and he lost his elder brother to an accident when he was four and his mother to cancer in 1955. He was known as a hard working, hard drinking and hard fighting man. He loved hunting and fishing in West Virginia and later in New York. In his life, he was a coal miner, a logger, and a farm laborer whose specialty was pesticide application. He was a migrant worker for most of the 1960s, traveling between New York and West Virginia. In New York, he mostly worked on the Elba muckland for Charles Forjone. In the 1970s, he started living on New Guinea Road; and in 1980, he had a son with Charlie's daughter, Carol. On Jan. 28, the day his son was born, Ray became a father and a little less wild at the age of 47.
In the mid-1980s, he had a mild stroke. He was diagnosed with emphysema and COPD and was told that his lungs would fail before he could make it to 62. Being the man he was, he worried but fought on. He took up growing and selling vegetables at market, first at the Kiwanis Club Flea Market and at the fairgrounds in Batavia; and, finally, at his favorite, the East Avon Flea Market. The rest of the 1980s and 1990s rolled by with farming, hunting, and a lot of good times. He watched his son graduate in 1999, but in 2000 he wasn't feeling well and was diagnosed with cancer. The doctors gave him five years to live.
Not willing to allow this news to break him, he started camping in the Southern Tier and eventually built a cabin. During the next several years, he recovered a little and went back to farming and back to the market he enjoyed so much. In fact, in 2009, at the age of 76, Ray started a new adventure. He and his son started selling at a new market – the Rochester Public Market. He continued with the markets and farming until the age of 81, when he finally decided to retire.
Ray's life was filled with joy and excitement again when his first granddaughter, Lillian, was born in 2014; and again in 2016 when he welcomed his second granddaughter, Annabelle. His love became watching and hearing them play and buying them toys and sweets. Ray was bedridden July 1 of this year, when he helped celebrate Lily's sixth birthday. He enjoyed pizza and ice cream and watched the kids play and open their new presents. He was in rare form that night, and the next day he was taken to the hospital and then passed a short time later.
Ray's life was like "A Tale of Two Cities." He was hard and relentless, and soft and gentle. He was a wild man, then a kind old gentleman who loved working the land and selling the fruits of his labor. Throughout his life, he always had a sense of humor and hope. He never backed down from a fight with any man, or any thing. He was his own man – he did things his own way and never listened when others told him that he couldn't. He was my father and my best friend.
As per Ray's request, there will be no funeral. His body will be returned to the earth that was part of his entire life.
In lieu of flowers, donations may be made to the family to help with final expenses.
Arrangements have been entrusted to Christopher Mitchell Funeral Homes, Inc., Holley. To share a special memory of Ray, please visit www.mitchellfamilyfuneralhomes.com.