Phyllis J. Albertson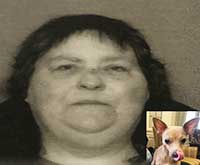 Phyllis J. Albertson, 61, of Albion, died March 12, 2020 in Orchard Manor Rehabilitation and Nursing Center. She was born in Charleston, W.Va. on Feb. 18, 1959, a daughter of Earl and Birdie Marie (Neff) Fitzwater, and she lived in this area her entire life.
She was a member of Albion Bible Baptist Church, and she enjoyed watching TV, listening to music and sitting outside. Phyllis also had a great love for animals.
She is survived by her husband of 22 years, Lee; her brothers, David Fitzwater and Randy Fitzwater; her sisters, Ardith Jett, Patricia Jett, Virginia Jett, Judy Mann and Clara Moyer; several nieces and nephews; and her beloved dog, Sabrina.
There will no calling hours. Her service and interment will be held at the convenience of the family.
Phyllis's arrangements have been entrusted to Christopher Mitchell Funeral Homes, Inc. of Albion. To share a special memory of Phyllis, please visit www.mitchellfamilyfuneralhomes.com.