Patricia Ruth Ritz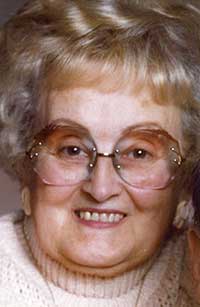 Patricia Ruth Ritz, 88, of Albion, passed away on April 2, 2019 peacefully at her home, with her loving husband by her side. She was born April 1, 1931 in Buffalo to the late Frederick and Loraine (Wilson) Daniels.
Patricia enjoyed gardening, decorating her home, and doing crafts. She worked for Eastman Kodak for 25 years before retiring. Patricia loved her grandchildren and loved spending time with them. Patricia and her husband, Harry, spent time doing many things together.
In addition to her parents, she was predeceased by her brother, Frederick Daniels; and by her sister and brother-in-law, Mary and George Plummer.
Patricia is survived by her loving and devoted husband of 45 years, Harry; children, Carolyn (Bruce) Sidari, Newell (Becky) Allport, Donald (Debbie) Allport, and Linda (Jimmy) Babcock; nine grandchildren; seven great-grandchildren; sisters, Dorothy (Don) Powers and Betty (John) Travis; sister-in-law, Adrienne Daniels; brothers-in-law, Ron (Joann) Ritz and Fran (Deb) Ritz; as well as several nieces, nephews and cousins.
There will be no calling hours. Patricia's funeral service will be held at Christopher Mitchell Funeral Homes, Inc., 21 West Ave., Albion NY 14411, on Sat., April 6 at 10 a.m. Interment will follow in Mt. Albion Cemetery.
In lieu of flowers, memorial contributions in Patricia's name may be made to Hospice of Orleans, P.O. Box 489, Albion NY 14411.
To share a special memory of Patricia, please visit www.christophermitchell.com.