Patricia L. Winans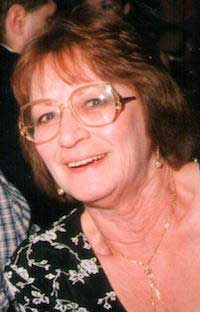 Patricia L. Winans, 83, of Medina, entered into rest peacefully on Mon., June 1, 2020 following a battle with cancer. She was born April 17, 1937 in Youngstown, Ohio, a daughter of the late Richard Whalen and Mary (Novino) Proudfoot.
She was a longtime parishioner of Holy Trinity R.C. Parish, St. Mary's Church in Medina. Mrs. Winans worked as a bus driver for the Medina Central School District. After retirement, she went back to work for Rite Aid in Medina for several years. She was a member of the Sacred Heart Club and the Moose Club and enjoyed bowling, playing bingo and going to the casinos. In her youth, Pat amazed people with her dancing talents, doing the jitterbug and the Charleston and so on. She was one of the most loving people on the planet and, rightfully so, was loved by many in return.
Besides her parents, she was predeceased by her husband of 47 years, Ronald B. Winans, in 2018; sister, Nancy Winters; and sister in-law, Margaret Ann Whalen.
She is survived by her children, Terah (Roger) Jackson, Michael Radka and Ronald Radka; eight grandchildren; five great-grandchildren; brothers, Daniel (Debbie) Proudfoot and James Whalen; sister, Candy Adams; as well as several nieces, nephews and cousins.
Her Mass of Christian Burial will be privately celebrated by her family, and burial will be in St. Mary's Cemetery, Medina.
Arrangements are in the care of Cooper Funeral Home, 215 W. Center St., Medina. Share condolences at www.cooperfuneralhome.com.