Pastor Aldora Bloom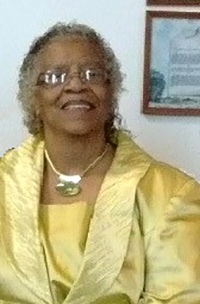 Pastor Aldora Bloom, 78, passed away peacefully on Fri., Dec. 24, 24, 2021 at Unity Hospital of Rochester with her loving family at her side.
Born on Dec. 10, 1943 in Fort Valley, GA, she was the daughter of the late Oscar and Estelle (Lindsey) Riley.
On April 4, 1959, she married the late Albert "Ironman" Bloom and together they raised four beautiful girls. Aldora worked as a home health care aid with the Orleans County Office of the Aging in Albion, NY. She was ordained as a minister in 1987 and in 2014 became the Pastor of The Church of Brotherly Love in Elba, NY. She enjoyed stopping for garage sales and was always ready to lend a helping hand for those in need. She especially enjoyed her time with her family and friends.
Aldora is survived by four daughters: Shirley (James) Crews of Albion, Gladys Johnson, Evonne (Nathan) Wilson, Tammy (William) Wilder, all of Medina; 10 grandchildren, 17 great-grandchildren, one great-great grandson; siblings: Willie Riley, Sr., Charlie Mae Fluellen and Sally Mae Johnson; and a host of nieces and nephews.
Besides her parents and husband, she is predeceased by one sister, Edna Mae Bloom.
Relatives and friends may call on Thu., Dec. 30, 2021 from 11 a.m. – Noon , with a going home service will be celebrated at Noon at the Oak Orchard Assembly of God Church, 12111 Ridge Rd., Medina NY 14103, with the Pastor Tammy Wilder officiating. Burial will be in Boxwood Cemetery in Medina.
Arrangements were entrusted to Bogan & Tuttle Funeral Home, 226 Pearl Street, Medina NY 14103.
Please light a candle or share a memory of Aldora at: www.bogantuttlefuneral.com