Oretha Louise Askew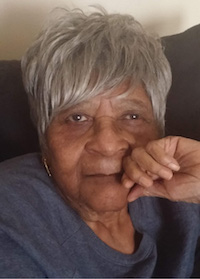 MEDINA – Oretha Louise Askew, 85, of Medina, NY, went to be with the Lord on Sunday, December 5, 2021 at the United Memorial Medical Center, Batavia, after a short illness. Born on June 20, 1936 in LaGrange, GA, she was the daughter of the late Roosevelt and Iris (Lakes) Mitchell.
Louise is best known for her beautiful angelic voice. She sang in her high school Alma Mater and sang background for various artists who later became famous. On one of her birthdays, Paul Beasley of the famous Gospel Keynotes, called her to sing Happy Birthday to her. She loved her gospel Quartet spiritual music and was always singing, even in the shower. Most of all, her favorite singing was with her Pastor, Rev. Lambert Duncan. Each time they talked on the phone, she felt enriched and it made her day brighter.
Louise was a very religious woman and could quote the Bible with her eyes closed. She enjoyed her TV shows, Family Feud, America Says, True Crime Stories and the nightly news. She would totally ignore you from 6 to 7 p.m., until she was completely caught up with the world's happenings. She was a onetime active member of the Orleans Community Gospel Choir, a former member of the Lord's House of Albion, and a faithful member of the Glad Tidings Baptist Church, until recent health issues forced her to be home bound. Everyone from all over loved Ms. Louise; she loved God, her children, grandchildren and great-grandchildren.
Louise's "daily phone calls" to her friends and family will be terribly missed. She had so many favorite gospel songs, but the one verse in particular from the song "God's Got It" that says "God's got you now in his arms and care, until we meet again" spoke to her.
Louise leaves to cherish in her memories, five daughters, Burnessa Conner of Medina, Faye Garris of Buffalo, Tonya (Jimmy) Delph of Toledo, OH, Evonne Askew of Ypsilanti, MI, and Stephanie Askew of Rochester; three sons, Carlos Lamar Garris of Rochester, and Wesley and Brandon Askew, both of Medina. Also surviving are 19 grandchildren, 15 great-grandchildren, and a host of many friends.
Louise is predeceased by her husband, Wesley Askew Sr., two grandsons, Jordon Askew and Marcus Garris.
Relatives and friends may call from Sat., Dec. 11 at 11 a.m. to noon at the Calvary Tabernacle Assembly of God Church, 11031 Maple Ridge Road Medina, NY 14103, where a Going Home Service will be celebrated at noon by Rev. Lambert Duncan. Burial will be in the Boxwood Cemetery, Medina, NY.
Arrangements were entrusted to the Bogan & Tuttle Funeral Home, 226 Pearl St. Medina, NY 14103. Please light a candle or share a memory of Ms. Louise at: www.bogantuttlefunerals.com.