Norma A. Christiansen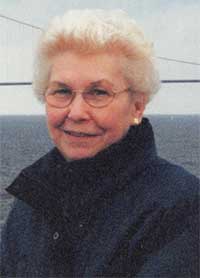 Norma A. Christiansen, 89, of Williamsville and Middleport, died Feb. 13, 2020 at the Wesley Rehabilitation Center following a short illness. She was born Aug. 26, 1930 in Stillwater, N.Y., a daughter of the late Clarence and Hilvie (Johnson) Anderson, and she lived in the area for 32 years.
Norma graduated from Drexel University in Philadelphia, where she was a member of the Sigma Sigma Sigma sorority and was the ambassador for the experiment in international living; on one of her trips she met her husband, Jorgen, whom she married on Sept. 14, 1957. She also was a home economics teacher at Kendall Central Schools, the Director of Head Start in Groton, N.Y., and a member of the Medina Memorial Hospital's Association of TWIG. She enjoyed reading and knitting, but most of all she loved spending time with her eight beautiful granddaughters.
In addition to her parents, she was predeceased by her husband, Jorgen; and her sisters, Eleanor Bergquist and Dorothy Peterson.
She is survived by her sons, Jens Christiansen and Poul (Judy) Christiansen; daughters, Lise (Andrew) Harty and Anne Marie (John) Fraboni; granddaughters, Merete, Morgan, Karen, Emily, Sarah, Jordan, Emma and Sydney; as well as several nieces, nephews and cousins.
The family will receive friends on Mon., Feb. 17 from 1 to 2 p.m. at Bates, Wallace and Heath Funeral Home, 38 State St., Middleport, where her Celebration of Life service will be held at 2 p.m. Burial will take place at the convenience of the family.
Memorials may be made to The Salvation Army, 960 Main St., Buffalo NY 14202; or to Buffalo City Mission, 100 E. Tupper St., Buffalo NY 14203.
To share a special memory of Norma, please visit www.mitchellfamilyfuneralhomes.com.