Ms. Edna Mae Richardson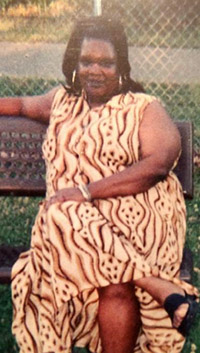 Ms. Edna Mae Richardson of Albion, NY entered into rest on Nov. 25, 2021. She was born on July 8, 1956 in Sumter, SC to Dorothy Spann and Joe R. Spann Jr.
She is preceded in death by her father, Joe R. Spann, Jr.; grandparents, Berdy Mae Richardson and "Sleepy" Richardson; brother, Charles Artis, and granddaughter, Monica Baylock.
She attended Kendall High School. Edna enjoyed spending time with family and her grandkids and treating their taste buds to her good old soul food that she often cooked; and if it was not soul food, it was crab legs.
She maintained a beautiful garden which she took great pride in; her thumb was definitely green! Edna also enjoyed being well-dressed. Everyone knew her fashion sense was impeccable; whether it be her hair color she often changed, or her stylish outfit, she owned it!
In her downtime, she enjoyed watching her favorite soap operas or a day of sitting by the lake and fishing. She was always caught cleaning – to the point you could eat off the floor.
Edna is survived by her mother, Dorothy Spann of Albion, NY; the love of her life, Stefon Smith of Albion, NY; dear children: Marvin Russ, Sr. of New York, NY, Sabrina Russ Campbell of Albion NY, Cassandra Lacey of Albion, NY, and Kalandra (Trevor) Blackwood of Houston, TX.
She will be deeply missed by her grandchildren and great-grandchildren. She also leaves to cherish, her siblings: Margaret Gaye Whitmill, Joe Spann, Ricky Spann, Loretta Spann, Anthony Artis, Melvin Artis, and Irene Artis; as well as a host of nieces, nephews, and many relatives.
Family and friends may call Sat., Dec. 4 from 12-1 p.m. at the Shiloh Baptist Church, Albion, NY.  Where a Homegoing Celebration will be held at 1 p.m.
Please share condolences www.jerfh.com