Michael S. Jones, Sr.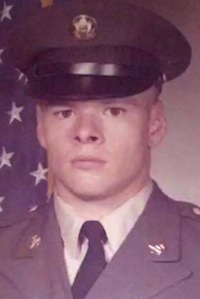 MEDINA – Michael S. Jones, Sr., 64, of Medina entered into rest on Tuesday, September 22, 2020 at the WNY VA Health Care System in Buffalo following a lengthy illness. He was born December 23, 1955 in Medina, a son of the late Albert J. Jones, Sr. and Mary C. (Horvat) Jones.
He graduated from Medina High School in the class of 1974. He went on to serve in the U.S. Army from 1974-81 where he served in Special Forces as a Green Beret.
Survivors include his wife, Candy Jones of Medina; three children, Charity (David) Garrow, Michael S. (Tracey) Jones, Jr. and Abbyleigh Osborne-Jones (fiancé, Brennen Harris); two grandchildren, Brooklyn and Nathan Garrow; a brother, Richard Jones (Doris Deboard); sister, Gail Rouse; sister in-law, Gail Jones (Mark) and several nieces and nephews. Beside his parents he was predeceased by his brothers, Albert "Jimmy" Jones, Jr. and Robert Jones.
Military honors will be accorded on Saturday, Oct. 3rd, at 10 a.m. in Boxwood Cemetery. A Celebration of Life gathering will be held afterward from noon to 6 p.m. at 439 Howell Parkway, Medina. Mike has made a selfless gift of organ and tissue donation to those in need through ConnectLife. Arrangements are in the care of Cooper Funeral Home, 215 W. Center St., Medina. Share memories and condolences at www.cooperfuneralhome.com.