Michael G. Paull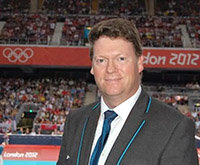 Michael G. Paull, 58, of Medina, NY passed away suddenly on Wed., May 18, 2022 at Millard Fillmore Hospital in Buffalo. He was born on Oct. 22, 1963 in London, England, the son of Sally Harper and the late Gordon Paull.
Michael grew up in Ontario, Canada and graduated from Wilfrid Laurier University with a Bachelor Degree in Communications.  After that, he coached the Waterloo Tigers Volleyball Club for over ten years.  During this time he also began his career as a volleyball referee, ultimately earning an International level rank.  This led to worldwide travel, the highlight of which was being selected to officiate the 2012 London Olympic Games.  Volleyball was also instrumental in meeting his wife, Renee.
Michael also attended Stratford Chef School in Ontario, Canada, graduating in 2000. For 22 years, he was employed as a Chef at the County Club of Buffalo, where he was well known for his creative displays and engaging interactions with both fellow staff and club members.
Michael was a constant supportive father to all of his son's endeavors, giving wise advice and transportation to the numerous activities.  He was a Cub Scout leader for Pack 28 for a number of years and later was an Assistant Scout Leader for Boy Scout Troop 35, helping Ray gain the rank of Eagle Scout.  He was an avid reader, and enjoyed working outside in his garden and yard.
Besides his mother Sally and step-father Steve Garbatt, he is survived by his wife of 24 years, Renee Paser-Paull; son, Ray Paull; brother, Steve (Simone) Paull of Woodstock, Ontario; and many nieces and nephews.  He will also be remembered by the countless lives he touched and many people he mentored both in the volleyball and culinary worlds.
Relatives and friends are invited to call at the Bogan & Tuttle Funeral Home, 226 Pearl St., Medina on Sat. June 18, 2022, from 12-2 p.m. and with a Celebration of Life Service at 2 pm.
In lieu of flowers, memorials may be made in Michael's name to: MAAC (Clothing Depot), 536 Orient St. Medina NY, or to the Medina Mustang Band Boosters, 2 Mustang Drive, both in Medina, NY 14103.
Please light a candle or share a memory of Michael at: www.bogantuttlefunerals.com