Melissa S. "Missy" Young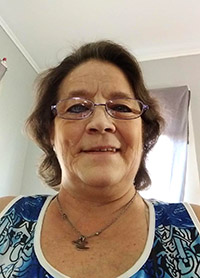 Melissa S. "Missy" Young, 55, of Basom, NY, went to be with the Lord on Fri., Dec. 31, 2021 at Unity Hospital of Batavia.
Born on Feb. 26, 1966 in Lockport, NY, she was the daughter of the late Burton E. and Joyce May (Burch) Stamp Sr.
Missy attended Lyndonville High School and worked various for various companies, including Ontario Foods. She was a member of the Oak Orchard Assembly of God Church and liked anything lighthouses. She enjoyed spending time with her children, grandchildren and three furry companions.
Melissa is survived by her children: Amandalynn McKenzie of Knowlesville, Scott E. McKenzie,  of Lyndonville, Elizabeth M. Hamby of Basom, Tracey M. Hamby of Silver Creek, NY, Samantha Barker of Basom and Randy Barker of Oakfield; grandchildren: Aiden M. Fairly, Haley E. Fairly, Alexis N. Fairly, Darrin M. Fairly, Leslie R. McKenzie, Trent M. Brege, Lilah J. Nuciola, Logan S. Allison and Levin D. Allison; siblings: Burton E. Stamp Jr. of Medina, Sharon (John) Maahs of Cleveland, TN, Yvonne (John) Sims of Medina, Denise (Bruno) Mangiola of Medina, Darryl (Tracey) Stamp Sr. of Johnson City, TN; numerous nieces and nephews; and her Fiancée, Todd Barker.
Besides her parents, she is predeceased by a sister, Darlene (Roosevelt) Little.
Relatives and friends may call on Sat., Jan. 8 from 10 a.m. – 12 p.m. at the Oak Orchard Assembly of God Church, 12111 Ridge Rd., Medina, NY 14103, where a memorial service will be held at 12 p.m. with the Pastor, Rev. Daniel A. Thurber officiating and burial will be held at the convenience of the family.
In lieu of flowers, memorials may be made in Melissa's name to the church.
Arrangements were entrusted to the Bogan & Tuttle Funeral Home, 226 Pearl St., Medina, NY 14103.
Please light a candle or share a memory of Missy at: www.bogantuttlefunerals.com