Maybelle P. Johnson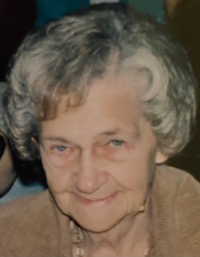 GASPORT – Maybelle P. Johnson, age 94, died January 15, 2021 in the Lockport Rehabilitation and Health Care Center following a long illness. She was born November 15, 1926 in Lockport to George and Janet (Braun) Lyons and was a life-long resident of this area.
Maybelle enjoyed spending time gardening and took great pride in raising her birds.
Mrs. Johnson was predeceased by her husband Roy Johnson Jr. and siblings: Lester Lyons, Bill Lyons, Beanie Lyons, Betty Bartlett and Donald Lyons.
She is survived by her daughter, Lorie (Calvin) Dufour of Gasport; brothers, Donald (Shirley) Lyons of Gasport, Richard Lyons of Batavia, and Charles (Freida) Lyons of Gasport; a sister, Charlotte (William) Graham of Batavia; grandchildren, Jason and Carl as well as several nieces and nephews.
The family will receive friends at the Solid Rock Assembly of God Church, 8590 Rochester Rd.-Gasport, on Tuesday from 10:30 a.m. to noon where her funeral service will follow visitation at noon. Interment will follow in Mt. Pleasant Cemetery.
In lieu of flowers, memorials may be made to The Solid Rock Assembly of God Church, 8590 Rochester Rd., Gasport, NY, 14067.
Maybelle's arrangements have been entrusted to the Sherrie Bream Funeral Home of Gasport.  To share a special memory of Maybelle, please visit: www.mitchellfamilyfuneralhomes.com.