Mary Ann Scarborough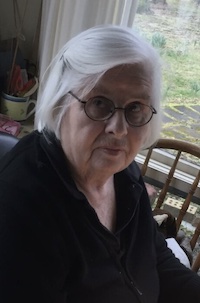 Mary Ann Scarborough, 92, passed away on Nov. 18, 2022. She was born on Oct. 7, 1930.
Mary Ann was a creative independent woman who brought joy to the lives of many, especially her husband Gregg Reid Scarborough (deceased), her children Jessica and Mark, her grandchildren Nadja and Eli Scarborough-Weiss, her son-in-law Fred Duong, and her great grandson Ronan Duong.
She served the community in a number of ways, working as a volunteer at WXXI, Saint Luke's in Brockport and other organizations.
It was through her art though that she had the widest impact. Her paintings and fabric art pieces were shown in galleries from California to New York State. Her work was exhibited in many juried shows, and her booth at the Sonnenberg Gardens annual show always drew many art lovers. Her one-person show at SUNY Brockport showcased the work of her later years.
Mary Ann enjoyed a life well lived and will be missed by family and friends.
No service will be held.