Martha L. Schwartz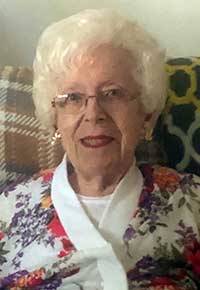 Martha L. (née Wolfe) Schwartz, of Gasport, entered into rest on Aug. 27, 2020 at Medina Memorial Hospital. She was 84 years old.
Born in Middleport on March 1, 1936, she was the daughter of the late Frank and Margaret Wolfe. She graduated from Royalton-Hartland Central School in 1954. She was an active member of the local congregation of Jehovah's Witnesses, and she loved sharing her faith with others. She will forever be remembered for her generous hospitality, her beautiful piano playing, her delicious cookies, and her deep love for her God, Jehovah, and for her family.
She is survived by her husband of 64 years, Howard; her three children, Mark (Jacklyn) Schwartz, Ronald (Cheri) Schwartz, and Lisa (Matthew) Galyardt; her two granddaughters, Julie (Michael) Johnston and Lindsay (Jared) Darker; two great-grandsons, Jase Morton and the late Alexander Johnston; her sister, Shirley (Leonard) Rosselli; and several nieces, nephews, cousins and friends.
An online memorial service will be held by the family at a later date.