Mark H. Poole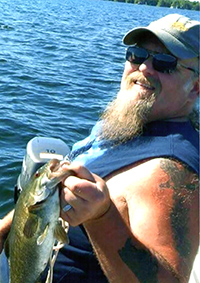 MEDINA – Mark H. Poole, 54, of Medina, passed away on Sun., Dec. 5, 2021 at his home following a battle with cancer.
Born January 21, 1967 in Lockport, he was a son of the late Lawrence and Lilly (Spencer) Poole. Mark worked in grocery store management for many years. He was an avid fisherman. Mark also enjoyed riding his Harley and watching football and hockey.
Left to cherish his memory are his wife, Cassandra M. Poole; son, Brian Poole; daughter, Megan Poole; step-sons, Matt and Ethan Stonebraker; five siblings, David (Paula) Spencer, Bob (Naddie) Spencer, Shirley (Fred) Srock, Larry (Janet) Poole and Diane (Merle) Lay; also several nieces and nephews.
Per Mark's wishes there will be no formal services. A celebration of his life will be held at a later date. Arrangements are in the care of Cooper Funeral Home, 215 W. Center St., Medina. Share condolences at www.cooperfuneralhome.com