Maria A. Hart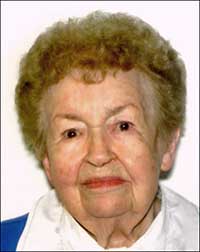 Maria A. Hart, of Albion, entered into eternal life on Fri., May 17, 2019 at age 95. Maria was born in Berlin, Germany to Otto and Bertha Veldt.
She is predeceased by her husband, Burley, in 1987; her son, David, in 1999; her sister, Alice Kuecken; and her brother, Waldemar Veldt.
She is survived by a niece, Alexandra (Norbert) Veldt of Germany; nephews, Konstantin (Gesine) Veldt and Gregor (Jutta Krause) Veldt of Germany; great-nephews, Jacob, Julian, Malte and Gunnar of Germany; sister-in-law, Margot Veldt of Germany; and her special friends, Leon Path, Cathleen O'Brien, and Lynne and Glen Suckling.
Maria was a member of Concordia Lutheran Church in Kendall and was an auxiliary member of the VFW. Maria was a wonderful and caring person and an excellent cook. She will be truly missed and will forever be kept in our hearts.
Family and friends are invited to attend her graveside service on Fri., June 7 at 11 a.m. in Mt. Albion Cemetery.
Memorial gifts may be made in Maria's name to Concordia Lutheran Church, 1769 Kendall Road, Kendall NY 14476. A reception will follow the service at 122 Chamberlain Street in Albion.
Maria's arrangements have been entrusted to Christopher Mitchell Funeral Homes, Inc. of Albion. To share a special memory of Maria, please visit www.mitchellfamilyfuneralhomes.com.