Lynne Lou Ambrose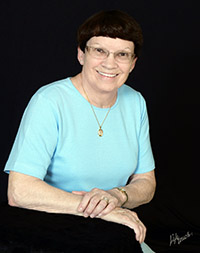 Lynne Lou Ambrose, 77, of Medina NY, passed away Mon., Jan. 3, 2022 at her home. She was born on May 27, 1944 in Akron, Ohio, the daughter of the late Byron and Martha (Thomas) Weller.
Lynne graduated from Royalton Hartland High School in 1962. She married James R. Ambrose Sr. on Nov. 26, 1966 and together they raised four children.  She loved her grandchildren and loved to follow them in their sports careers.  She loved to make clothes for them and she loved to knit, making dishcloths and towels.
Lynne was a member, Deacon and Elder at The First Presbyterian Church in Medina, where she received awards for the work she did at the church.  She was an active member of the community choir and a local board member with Women's Aglow. Lynne was a bus driver for Head Start and the Medina Central School System as well as a Teacher's Aide for Medina.
Lynne is survived by her husband of 55 years James R. Ambrose Sr., children: Leslie (William) Saj, James R. (Lynn) Ambrose Jr., Heather (Mark) Dempsey, Adam Ambrose; grandchildren: CJ (Ariel) Ambrose, Hannah Saj, Emma (Mitchell) Wolter, Matthew Saj, Corey Saj, Ethan Dempsey, Jameson Dempsey; and  great-grandchildren: Nathan Hoffmeister and Kavik Ambrose.
Besides her parents she was predeceased by brothers: Bruce and Van Weller; and inlaws Frank and Eva (Yanko) Ambrose.
In lieu of flowers, donations can be made with The ALS Foundation (click here) and/or Supportive Care of Orleans County, PO Box 418, Albion, NY 14411.
There will be a memorial service at The First Presbyterian Church, Main St., Medina on Sat., Jan. 15, at 1 p.m.
Private interment at a later date.