Lyle E. Schultz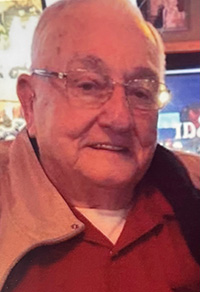 Lyle E. Schultz, of West Shelby, passed away following a brief illness on Tues., March 7, 2023 in Nashville, Tennessee.
Born July 23, 1935 in the Town of Shelby, he was a son of the late Carl E. and Edith J. (Pratt) Schultz. Mr. Schultz was a graduate of Medina High School, Class of 1953. On July 26, 1969, he married the late Ruby E. Schultz. Mr. Schultz had many occupations, but his love was working as a truck driver and was the owner and operator of his own trucking business for many years. The couple operated the "Barnegat Store" in Shelby Center where they had many years of happiness. Mr. Schultz was a member of Masonic Lodge #1072 in Dexter, NY, the Wolcottsville Sportsman's Club and Junior Wilson Sportsman's Club. Mr. Schultz loved going to his camp, hunting, and in his final years, spending time with his youngest grandson, Mitchell Jr.
He was predeceased by his wife, Ruby Schultz on Feb. 23, 2015; sister, Wilma Cratzenberg; and brothers, William Schultz and Dayton Schultz.
Left to cherish his memory are his children, Mitchell (Jamie) Schultz of Tennessee, Gerri Schultz and Darryl Schultz of Albion; stepchildren, Larry (Val) Bruning and Laurel Bruning; grandchildren, Brandon, Ashley, Elizabeth, Hannah, Brock, Savanna and Mitchell Jr.; great grandchild, Paisley; also, several nieces and nephews.
Funeral services will be held at a later date in the spring and will be announced at a later date. Interment will be in Mt. Pleasant Cemetery. Arrangements are in the care of Cooper Funeral Home, 215 W. Center St., Medina.
Memorial donations may be made to the Shelby Volunteer Fire Company, P.O. Box 1, Medina, NY 14103 or to the Warrior House of WNY, 22 Mill St., Oakfield, NY 14125 or www.warriorhouseofwny.com. Share condolences at www.cooperfuneralhome.com.