Lucy M. Pore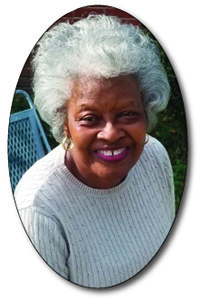 Lucy M. Pore was born Feb. 9, 1939 in Sumter County, Americus, Ga. to the late John Junior and Eunice B. Jackson. She was called to rest on Dec. 30, 2020.
Lucy was educated in Sumter County Schools, Americus, Ga. After graduating Lucy relocated to Albion, NY. She was employed many years by General Electric and retired from Bausch and Lomb in Albion, NY. She was a warm-hearted, generous, loving woman who had a love for baking and cooking delicious meals. Lucy also enjoyed singing and going to church.
At an early age, Lucy accepted Christ and was baptized at the family home church, Jerusalem Baptist Church in Americus Ga. Lucy served as a Deaconess under the leadership of Paster Ray Neil Fisher and Ruben L. Goff of Shiloh Baptist Church in Albion, NY. Lucy was also a member of the Order of the Eastern Star – PHA. After relocating to Hamlet, NC, Lucy became a member and served as a Deaconess at the Hope Missionary Baptist Church, Hamlet, NC under the leadership of Reverend John Jackson and the late Reverend Gatewood.
In addition to her parents, Lucy is preceded in death by her best friend and husband of 45 years, Jimmy L. Pore; brothers: Larenzo Jackson and Leon Jackson; sister, Mary Brady; and great-niece, Jenaye Railey.
She leaves to cherish her memories and love: stepson, Trellis Pore (Caleia) of Albion, NY; Godsons: Anthony Wynn of Albion, NY and Cedric Wynn (Stephanie) of Statesboro, Ga. Surviving siblings: Fannie Wilkinson of Washington, Ga., Johnnie Mae Wynn of Macon, Ga., Eddie Jackson (Jeanette) of Forestville, Md., Willie Jackson (Julia) of Columbus, Ga., John Jackson III (Barbara) of Fort Washington, Md., Vyrtis Thomas (Nathaniel) of Mitchville, Md. She also leaves grandchildren, a host of nieces, nephews, and other relatives and friends to carry her memories.