Louis C. Biaselli Jr.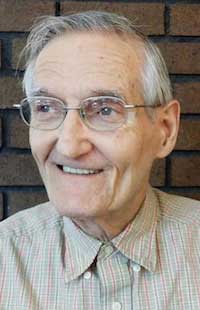 Louis C. Biaselli Jr., 87, of Albion, died April 21, 2020. He was born Feb. 4, 1933 in Albion, a son of the late Lewis and Florence (Long) Biaselli Sr.
Louis was a military veteran who served his country in the United States Army during the Korean War, and he was a member of the American Legion.
Louis is survived by his loving wife of 60 years, Elsie; children, David (Dawn) Biaselli, Clinton (Donna) Biaselli, and Linda (Bob Wence) Biaselli; six grandchildren; four great-grandchildren; as well as several nieces, nephews and cousins.
Louis was a loving and devoted husband, father and grandpa, exemplified by the selfless lifestyle he chose for himself. He enjoyed family gatherings with siblings and close family members and especially loved making great memories with his children and grandchildren. He also enjoyed hiking beautiful trails, putting down many memorable miles with family members. His home backed up to the Erie Canal and, at the end of a day, you could often find him on his patio watching the boats go by while enjoying a tall glass of ice water.
Later in life, he simply enjoyed a good western show with the "Duke," or "The Waltons" or "Little House on the Prairie."
Louis was a member of the Holley Assembly of God. He loved worshiping God.
Services will be held privately and at the convenience of the family.
Memorial contributions in Louis's name may be made to Alzheimer's Association, 225 N. Michigan Ave., Fl. 17, Chicago IL 60601.
Louis's arrangements have been entrusted to Christopher Mitchell Funeral Homes, Inc., 21 West Ave., Albion NY 14411. To share a special memory of Louis, please visit www.mitchellfamilyfuneralhomes.com.