Lorraine J. Luckman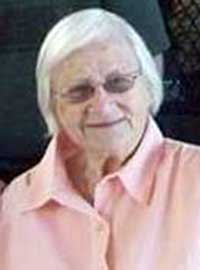 Lorraine J. Luckman, 84, of Knowlesville, went to be with the Lord on Sun., June 21, 2020 at her home, with her loving family at her side.
Born on June 26, 1935 in Philadelphia, Pa., she was the daughter of the late Joseph G. and Elizabeth (Carver) Weiss.
Lorraine enlisted in the U.S. Army on July 23, 1953 and served as a nurse during the occupation of Germany. On June 11, 1955, she married the late Earnest C. Luckman in Heidelberg, Germany. On returning home, she was employed with Fisher-Price for 30 years, and lastly as an LPN at Orchard Manor Nursing Home. She was a member of United Methodist Church of the Abundant Harvest, where she was active in various Fellowship Hall fundraisers and events. She loved her church family and neighbors and spoke with them often. In her spare time, she enjoyed her many flower gardens.
Lorraine is survived by her six children, Teresa (Kenneth) Minehart of Fairborn, Ohio, Tina (Steven) Blazer of Streesboro, Ohio, Tammy (Darryl) Clark of Laurel Hill, Fla., Tracy (Maurice) Landry of Athens, Mich., Tawnya (Jack) Doran of Lockport, and Earnest C. (Maevonne) Luckman II of Knowlesville; 16 grandchildren; 29 great-grandchildren; one sister, Joann M. Fox of Florida; and many nieces and nephews.
Besides her parents and husband, Lorraine is predeceased by a brother, Joseph G. Weiss Jr.; and a daughter, Toni Luckman.
Relatives and friends may call from 11 a.m. to 1 p.m. on Wed., June 24 at Bogan & Tuttle Funeral Home, 226 Pearl St., Medina NY 14103. In accordance with the "Unpausing" New York State guidelines, the funeral home will limit occupancy to 25 persons at one time.
Burial will be at the family's convenience in Boxwood Cemetery with full military honors.
Memorials may be made in Lorraine's name for the upkeep of the Knowlesville Fellowship Hall, care of
The United Methodist Church of the Abundant Harvest, 12373 Maple Ridge Road, Medina NY 14103.
Please light a candle or share a memory of Lorraine at www.bogantuttlefunerals.com.