Lidia Flores Rivera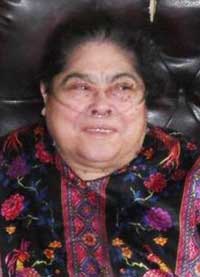 Lidia Flores Rivera, 79, of Medina, went to be with the Lord on Sat., Dec. 29, 2018 at Millard Fillmore Hospital.
Born on Oct. 9, 1939 in San German, Puerto Rico, she was the daughter of the late Jesus and Maria Flores Delgado.
Lidia moved from Puerto Rico to the Medina area, where she met and married her late husband, William Rivera Sr. She worked various jobs, including at Heinz in Medina and at Monroe Frozen Foods. Lidia enjoyed the outdoors and enjoyed growing plants, having a very green thumb that was the envy of all, and she loved to cook for family and friends.
Lidia is survived by four children, Iris Torres of Puerto Rico, Heriberto (Santa Oliveris) Torres of Buffalo, Zoraida (Richard Lopez) Torres of New York City, and William Rivera Jr. of Medina; 14 grandchildren; 19 great-grandchildren; five siblings, Cheo Flores of Puerto Rico, Candy Lugo of Middleport, Maria "Nova" Flores Delgado of Texas, Pasquel Flores Delgado of Puerto Rico, and Carmen (Jorge) Fiero of Texas; and many nieces and nephews.
Lidia is preceded in death by Ramone "Pepe" Torres Flores, and by three brothers in Puerto Rico.
Relatives and friends may attend a Mass of Christian Burial on Tue., Jan. 8 at 11 a.m. at Holy Trinity Parish/St. Mary's Church, Medina, with the Rev. Daniel J. Fawls celebrating.
Arrangements were entrusted to Bogan & Tuttle Funeral Home, 226 Pearl St., Medina NY 14103. Please light a candle or share a memory of Lidia at www.bogantuttlefunerals.com.