Leon Van Lieshout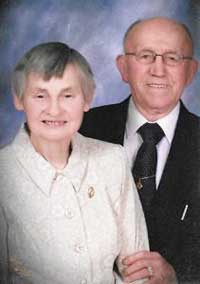 Leon Van Lieshout, 92, of Geneseo, N.Y. and formerly of Albion, died on Dec. 23, 2019 after being diagnosed with lung cancer in November 2019. He was born in the Netherlands on Feb. 1, 1927, the son of Godfrey and Anne Marie Van Lieshout. Leon and his wife, Hendrika, married on Sept. 19, 1956 and emigrated to the United States on Sept. 29, 1956. They first settled in the Baltimore, Md. area, where their six children were born. They also lived in Verona, N.Y. before moving to Albion in 1978.
Leon was a lifelong dairy farmer, owning his own farms in upstate New York. Two of his sons, Michael and Andrew, continue to build on the farm he started in Albion. Leon served in the choir and was an active member of St. Joseph's Catholic Church, Albion, for over 30 years before moving to St. Matthew Catholic Church in Livonia, N.Y. Leon also loved ice skating, playing the accordion, and serving in local politics.
He is survived by his children, Michael (Cyndy) Van Lieshout of Albion, Martina (Stephen) Moulton of LeRoy, David (Christina) Van Lieshout of Livonia, Lawrence (Barbara) Van Lieshout of Stillwater, Minn., Andrew Van Lieshout of Albion, and Anne Marie (Chris) Barnwell of Ft. Worth, Texas; grandchildren, Jenna (Martin) Bruning, Alex (Maggie), Mitchell and Garrett Van Lieshout, Stephanie (Robert) Rauch, Phillip and Natalie Moulton, Peter, Katelyn (Ian) Ladner, Adam (Katie) and Marissa Van Lieshout, Virginia and Michael Van Lieshout, Amelia and Victor Woods; step-grandchildren, Christopher and Jessica Barnwell; 10 great-grandchildren; siblings, Jaantje van den Oever of the Netherlands, Doortje Roefs of the Netherlands, Frances Tillaart of Canada, and Lawrence (Mary) VanLieshout of Canada; numerous nieces and nephews.
He was predeceased by Hendrika, his wife of nearly 54 years; one grandchild; and six siblings.
Family and friends may call on Fri., Dec. 27 from 4 to 7 p.m. at Kevin W. Dougherty Funeral Home, 21 Big Tree St., Rt. 20A, Livonia. A funeral Mass will be held at 10 a.m. on Sat., Dec. 28 at St. Matthew Catholic Church, 6591 Richmond Mills Road, Rt. 20A, Livonia, with a reception to follow. Burial will take place following the reception at 2:30 p.m. at St. Joseph's Cemetery, Rt. 31, Albion.
Friends may make memorial contributions to St. Matthew Catholic Church, PO Box 77, Livonia NY 14487.
To send condolences or for further information, please visit www.doughertyfuneralhomes.com.