Lena Willcox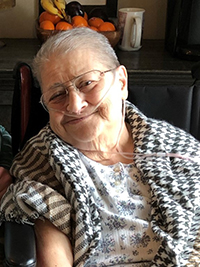 MEDINA – Lena Willcox, 82, passed away December 4th at ECMC.  She was born October  25, 1939 in Susquehanna, PA daughter of Nicholas and Catherine (Pingarella) Napolitano.
Lena's child-hood family moved to Endwell, NY where she grew up and eventually met her husband David E. Willcox Sr. where they were married on December 12th, 1964.  David and Lena spent most of their life together raising their family of four children on a dairy farm which started with a farm in Oxford, NY before moving in 1974 to  their dairy farm in Middleport.  They continued to live in the farm house for many years after selling the farm until recently moving to Medina in 2018.
Lena was a loving wife and mother and faithful member of the body of Christ attending Oak Orchard Assembly of God church in Medina for many years.
Lena was predeceased by her husband David Willcox Sr and daughters Cathy Bidell and Jennifer Willcox; granddaughter Heidee Peterson, and sister Anne Jackson.
She is survived by her children, David (Patricia) Willcox Jr, Toni (Nicole) Willcox, step-daughter Nancy (Mark) MacLaury, grandchildren Julia (Jeff) Robinson, Jon Willcox, Kim (Thomas) Wolf, Brian Bidell, Shane (Heidi) Willcox, Kylee Borden; several great-grandchildren; brothers Nick and Lou and sister Louise; and several nieces and nephews.
Although limited by various health issues in her later years of life, Lena's love for God, children, grandchildren and friends remained strong through her continued prayers for them and the joy that she received from them and also brought to them as well.
A memorial service celebrating Lena's life and home going will be held at Oak Orchard Assembly of God church in Medina on Friday, December 10th at 4pm.