Lawrence S. Radzinski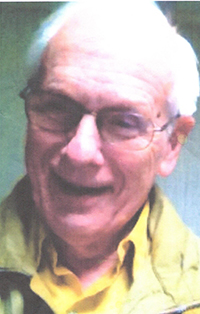 ALBION – Lawrence S. Radzinski, O.S.F., entered into rest on Sunday, May 8, 2022.
Larry was the son of the late Stanley A. and Wanda M. (Furmanski) Radzinski. He was born on July 21, 1935 in Albion. Larry graduated from St. Mary's School in Albion in 1949 and from Albion High School in 1953. He went on to serve in the U.S. Army from 1958-1960. Larry was honorably discharged with the rank of SP4. He lived and worked in Albion until he married the love of his life, Martha Slawski on October 7, 1972.
Larry worked for several grocery stores over the years, retiring from Jubilee Foods in 1997 after 44 years in the grocery business. He enjoyed working outdoors doing gardening work. He also liked helping people in any way he could. Larry was a member of Holy Trinity R.C. Parish, St. Mary's Church in Medina where he served as Eucharistic Minister, Altar Server, Lector and Greeter. On August 18, 2015, he became a Franciscan Associate of the Franciscan Sisters of St. Joseph in Hamburg, NY. On June 19, 2018 Larry became a member of the Secular Franciscan Order (O.F.S.) at Holy Trinity Parish in Medina.
Larry was predeceased by his wife of 35 years, Martha Radzinski on April 19, 2007; sister in-law, Anna Slawski and brothers in-law, Edward (Mary Lou) Slawski and John (Dolores) Slawski; aunts, uncles and cousins.
He is survived by cousins; dear friends, Ronald Fisher and family and Sandy (Marcia) Stornelli; and members of his church family.
An hour of calling will be held on Thursday, May 12th from 10:30-:11:30am at Cooper Funeral Home, 215 W. Center St., Medina, followed by his Mass of Christian Burial at 12:00pm at Holy Trinity RC Parish, St. Mary's Church, 211 Eagle St., Medina. Interment with military honors will be in Sacred Heart Cemetery. In lieu of flowers, memorials may be made to Holy Trinity R.C. Parish at the address above or to a charity of one's choice. Share memories and condolences at www.cooperfuneralhome.com