Kirk W. Hodgins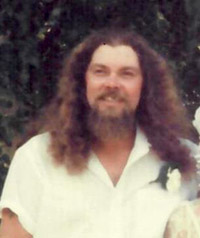 Kirk W. Hodgins, 64, of Medina, NY, after a long battle with Kidney Disease, took his last breath on Wed., March 9, 2022 at Buffalo General Hospital, surrounded by his loving family.
Born on Oct. 17, 1957 in Medina, NY, he was the son of William Hodgins and the late Irene (Theil) Hodgins.
Heaven has one of the best angels, ours. Ride that Harley in the streets of heaven and you'll always be in our hearts.
Kirk enjoyed spending time with his family, especially with his grandchildren. He enjoyed motorcycle riding and crafting walking sticks.
Besides his father, Kirk is survived by his wife of 31 years, Susan Hodgins; children: Mike (Tina) Nellist, Brandy Hodgins, Jeb (Natile) Hodgins, Brandi (Kevin) Monell, Tiffany (Mike) Grimaldi, Hannon (Nicole) Withey, and Stacey (Andy) Mank; 12 grandchildren, two great-grandchildren; siblings: Bryan Hodgins and Bonnie Dolan; and several nieces and nephews.
Besides his mother Irene, Kirk is predeceased by his parent-in-laws, William and Joanne Just and  granddaughter, Penelope Mank.
Relatives and friends may call on Sat., March 19, 2022 from 10 a.m. – 12 p.m. at the Community Fellowship Church, 3144 Johnson Creek Rd., Middleport, NY 14105, where a memorial service will be held at 12 p.m. with the Pastor Joe Szalay officiating. Burial will be private for the family.
Memorials may be made in Kirk's name to the Village of Medina Fire Department Ambulance, 119 Park Ave., Medina, NY 14103; or to the Family.
Arrangements were entrusted to the Bogan & Tuttle Funeral Home, 112 N. Main St., Lyndonville, NY 14098.
Please light a candle or share a memory of Kirk at: www.bogantuttlefunerals.com