Kevin D. Heideman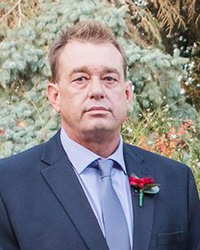 Kevin D. Heideman, 53, of Medina, NY, went to be with the Lord on Mon., June 21, 2021 at his home with his loving family at his side.
Born on Feb. 19, 1968 in Medina, NY, he was the son of Robert Heideman and Patricia (Wasnock) Collins.
Kevin graduated from Medina High School in 1988 and enlisted in the U.S. Army in 1989. On July 29, 1994 he married the former Pam James and together they raised three children. Kevin was a tradesman, working for various companies and in 2013 he started KDH Enterprises with his son Eric. He was an avid outdoorsman and enjoyed playing horseshoes at the Jr. Wilson's, and most of all fishing.
He is survived by his wife of 26 years, Pam; children: Felicia (Joe) Bragg, Eric Heideman, and Austin Heideman; parents, Robert (Dawn) Heideman, Patricia (Michael) Collins; and siblings: Michael Heideman, Tamara (Paul) Stephen, Marisa Minonno, Dave (Amy) Webster, Zachary (Kerri) Ausman, and James (Darcy) Beaver. Along with a large, loving family of aunts, uncles, cousins, nieces and nephews, Kevin is also remembered by many wonderful friends.
Memorials may be made in Kevin's name to Hospice of Orleans, P.O.Box # 489, Albion, NY 14411; or to PAWS Animal Shelter, 3371 Gaines Basin Rd., Albion, NY 14411.
Relatives and friends may call on Wed., June 23, 2021 from 6-9 p.m. at the Bogan & Tuttle Funeral Home, 226 Pearl St., Medina, NY 14103. Funeral and burial is private for the family.
Please light a candle or share a memory of Kevin at: www.bogantuttlefunerals.com