Kay Loraine Schultz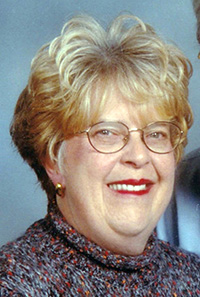 Kay Loraine Schultz, 75, took a bow and passed from this world on March 21, 2020. She was born Jan. 18, 1945 in Corning, NY, a daughter of the late Carl and Edith Gurnsey.
Those who knew her describe Kay as a feisty, funny, and fiercely loving woman. She was a bright spark, with a big, joyful laugh and a fondness for irreverent jokes. Kay was a wonderful wife, mother and friend – she often "didn't know what to tell you" when you were upset or worried, but was always there to listen and to offer sound advice. At home or at work over her many years of service at the Orleans County Probation Department and Ames Department Store, Kay wasn't afraid to speak her mind – and there's a good chance that she was the most stubborn person you would ever meet in your life. She was an avid reader, a restorer of furniture, a lover of gardening, a frequenter of garage sales, and a proud member of the Albion High School Class of 1963. 
Kay was the first to know the best gossip, and somehow she could always soothe even the crankiest of babies. Kay loved a good party – especially if she was the one planning it! Kay perfected her first husband's mother's meatballs until she could make them as if she had been born Italian – and she always brought the macaroni salad to the potluck. Kay was a self-proclaimed and unapologetically proud "crazy cat lady."
Kay is survived by her loving husband of 21 years, Duane Schultz; sons: Chris Finney, Christopher (Adrienne B) Schultz, and Nicholas (Aimee) Schultz; daughters: Stephanie (Aaron) Finney Levene, Jodi (Mike) Schultz-Waild, and Karen (Bill) McDonald; grandchildren: Austin, Tarin, Keith, Victoria and Zoe; sister and best friend, Marilyn Rouse; dear brother, Carl (Carolyn) Gurnsey; all her incredible nieces and nephews; and last but certainly not least, her cats – Raj, Sylvie, Stanley, Gigi, Fifi and Lizzie.
As the world opens up again, the family of Kay Schultz invites those who knew and loved her to a Happy Hour to celebrate her memory on Fri., July 16.  Drop by the Sacred Heart Club, 189 N. Gravel Rd, Medina, NY 14103, any time between 4-8 p.m. Attire is casual, bright colors are definitely encouraged!
Memorial contributions in Kay's name may be made to a charity of choice.