Karen A. Easton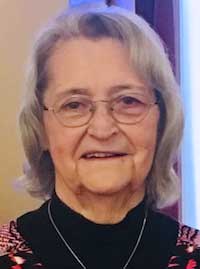 Karen A. "Kay" Easton, 77, of Medina, went to be with the Lord on Sat., May 30, 2020, at home with her loving family at her side. Kay was born on Jan. 24, 1943 in Batavia. She was the daughter of the late Irving J. and Florence (Hale) Pender.
In 1961, she graduated from Oakfield-Alabama High School. She married the late David A. Easton on Feb. 17, 1962, and together they lovingly raised two daughters.
Kay was employed as a nursing assistant at Orchard Manor Nursing Home in Medina for 23 years and was a cherished member of Alabama Full Gospel Church. She loved watching NASCAR and was a big Jimmy Johnson fan. Kay loved to crochet and made many beautiful afghans for all of her family members. Kay was also known for being a good cook and dessert maker, and for sharing the meals with the ones she loved. She enjoyed spending her spare time with her family, especially loving the time she spent with her grandchildren and great-grandchildren.
Kay is survived by her two daughters, Teri Easton of Batavia and Traci Easton of Medina; grandchildren, Kristi (Ian) Will, Brittany Sczepanski, Cody (C.J. Savoy) Sczepanski, and Ronald "Bunk" (Heaven) Washak III; five great-grandchildren, Makenzie Massaro, Evan Massaro, Tyler Massaro, Ronin Will and Jasper Savoy; a sister, Sue (Ken) Gibson of Albion; a sister-in-law, Nancy Pender of Basom; and many nieces and nephews, sharing a birthday with one special close niece.
Besides her husband, Kay was predeceased by her brother, Duane "Pen" Pender.
A Celebration of Life will be held at Alabama Full Gospel Church at a later date to be announced, and burial will be private at Alabama Cemetery.
Memorials may be made in Kay's name to Alabama Full Gospel Church, 5329 S. Gravel Road, Medina NY 14103; or to Hospice of Orleans, P.O. Box 489, Albion NY 14411.
Arrangements were entrusted to Bogan & Tuttle Funeral Home, 226 Pearl St., Medina NY 14103. Please light a candle or share a memory of Karen at www.bogantuttlefunerals.com.